Practical French Book Series
---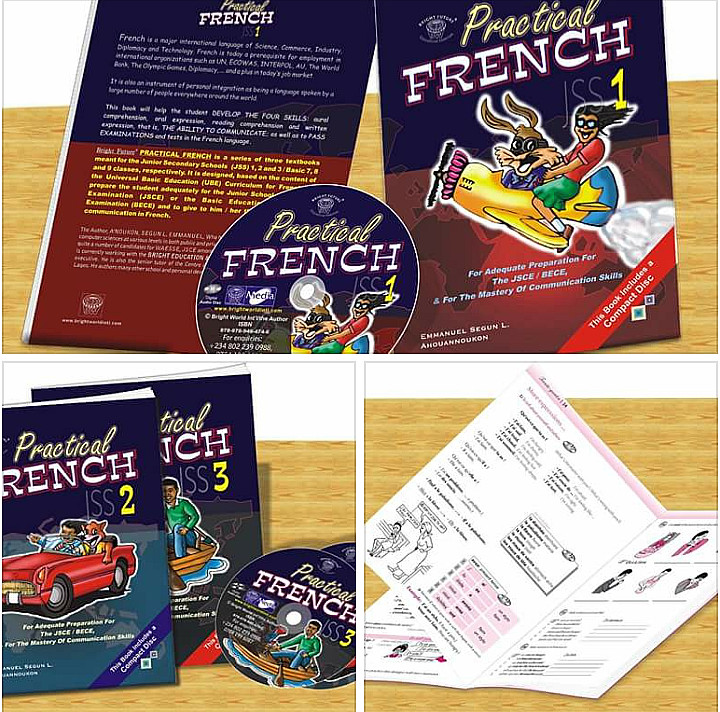 Bright Future® PRACTICAL FRENCH is a series of three textbooks meant for the Junior Secondary Schools (JSS) 1, 2 and 3, respectively.
The book is designed, based on the content of the Universal Basic Education (UBE) Curriculum for French, to prepare the student adequately for the Junior School Certificate Examination (JSCE) or the Basic Education Certificate Examination (BECE), and to give to him/her the basic skills for communication in French.
This series will help the student acquire the ABILITY TO COMMUNICATE, as well as to PASS EXAMINATIONS and tests in the French language. It will help the student DEVELOP THE FOUR SKILLS:
aural comprehension,
oral expression,
reading comprehension and
written expression.
The PRACTICAL FRENCH series will enable students learn and master the basic grammar including the pronunciation of the language while they learn to apply these to the "real-situation" or practical use of the language. Provision is made to make possible for the students to think in the language while studying it so as to imprint it on their mind.
The series also includes a set of studies of the francophone world and the language culture. Extra materials are included to help enrich the student's vocabulary.